Alinto Protect: Smart secured E-mail relay
Work safely with Alinto Protect, the email relay that immunizes you from Internet risks by ensuring a constant access to your emails.Compatible with Alinto, Office 365, GApps or any other email provider.
Why to choose Alinto Protect
Compatible

with any professional email service.
Protection of IP and domains against

blacklisting.

Customizable

security rules.
Service

hosted and managed in European Union.

Monitoring

24/7.
What can our smart secured E-mail relay do for you?
The email security service Alinto Protect uses advanced security technologies connected with international RBL RBL as well as our own Cleanmail lists, enriched daily since 2003. Depending on the policy selected for a group of users, it tags and delivers messages to the mail server or classify in the quarantine zone zone any suspicious message. For greater security, Protect submits al the inbound email traffic to several antivirus filters, which guarantees an optimized management of the threats.
All messages considered suspicious are automatically classified in the quarantine zone for 30 days. Depending on the rights assigned, the user could include an email address or a domain in a whitelist as well as it in a blacklist. Users receive a notification service about the status of their quarantine area on a regular basis
The business continuity plan provides permanent access to the mail system thanks to the emergency webmail. Even in case of server unavailable, the mail system remains accessible. Besides, the service is monitored 24/7/365.
The archive module protects the email system from any kind of data loss (incidence on servers, deletion, etc.) and optimizes the storage of accounts, fighting against the "overweight" of the mailboxes. It keeps a non-modifiable copy of all incoming and outgoing traffic, including attachments during a customizable period of time per domain and user.
Email protection for companies: a global security service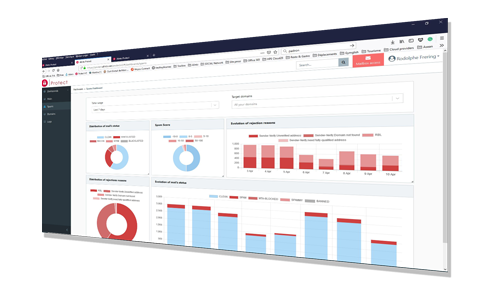 Features:
Protection against threat of spam, scam, phishing, spoofing or virus type malware, ransomware, …

Unique access point (webaccess) for all domains.

Performing antispam for companies: filtering of incoming and outgoing traffic.

Log analysis in real time: greater reactivity to attacks and better monitoring of the mail platform.

Control panel with real-time tracking.

White list configuration by user or domain.

Configuration of blacklists by user or domain.

Protection of the reputation of IPs and mail domains.

Monitoring 24h/7.

Deployment available On Cloud or On Premise.

Account management and provisioning API.
Reinforced protection of mail inbox
Log management in real time
User experience improved
Office 365's revenue increased.